Obama German students settling in with host families in Deutschland, and yes….going to school
Naomi Purnell
June 30, 2011
Note: When our student photographer Naomi Purnell offered to be a reporter and photographer when she, her classmates and Herr Harger made their way to Germany in late June, we were thrilled.  You see, in the short time that we have gotten to know her, we have seen that her passion for photography already gave a number of our stories that professional touch. She is that talented. And a desire to report and share photos while she is on the trip? Well, as you can imagine, we are so gratified by her offer.
Die ersten Woche bei die Familien (the first week with the families))
2011.06.30
We've been with our families for only five days and yet, it feels like five months!
After almost a full week of school here, all of us are ready to embrace our summer vacation. Yesterday we visited Strasbourg, France and the EU parliament.
Here is the entire German-American Partnership program group (both Americans and Germans)
This picture comes from our boat tour of Strasbourg, France
This is a picture of the European Parliament building
This is the big cathedral in Strasbourg
Munich/Füssen
2011.06.26
| | |
| --- | --- |
| On the plane ride to Philadelphia | |
A church with Glockenspiel in the Marienplatz of Munich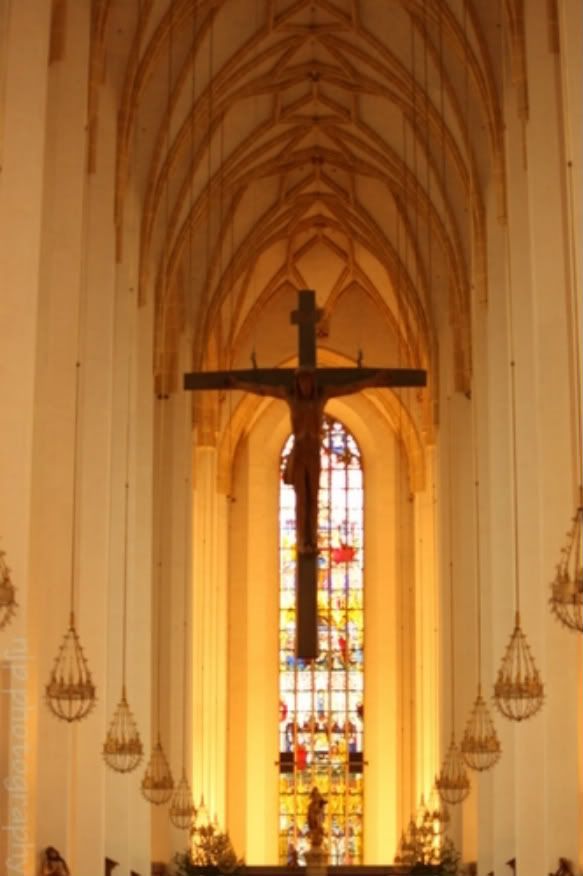 Inside one of Munich's churches
| | |
| --- | --- |
| Dachau museum | |
| | |
| --- | --- |
| Neuschwanstein Castle in Füssen | |
After four days of being inGermany with no internet access, here's a summary of our trip thus far: walking.
Lots and lots of walking.
Walking in munich was a very rainy experience…and in my case, confusing. The point is not that I got lost from the group on the very first day or that Germans give very poor directions or that I did indeed find the group again.
The point is that it hasn't always been the easiest of events.
Füssen was better weather wise and we were blessed with gorgeous sunshine the whole time we were there.
And no one got lost.
We finally settled in with our host families,  and I think we were all ready to finally get off the train.
School is tomorrow, we'll see how it goes.